Homeless Connect San Francisco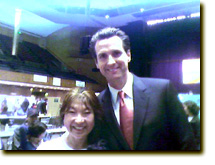 with Mayor Gavin Newsome, Homeless Connect San Francisco
I was so impressed with this Project Homeless Connect (PHC) event I thought I would write a little about it. Since I first particiapted in 2008, I try to join these events as often as possible. I first heard about this from my friend and fellow acupuncturist, Lynn. I volunteered to provide acupuncture treatments in the healing arts area of the event at the Bill Graham Civic Center.

The morning was busy. Many people were standing in line to check in for the many free service such as free reading glasses, books, HIV testing, foot scrubs and massage, and acupuncture. There are many typical looking of bag ladies and men,
Unkempt hair and dress, some appearing disoriented or just lost. They all seem to be into their own business to take advantage of these free services, walking from table to table to check what services they can get.
Many passed by the acupuncture station and signed their name to get in line for treatment. Surprisingly each one of them seems to know one another. They all start to say Hi to each other, exchange a few hugs, with much laughing and consolation for each other for their own or others problems. Suddenly I feel a sense of a small community right on this spot. They are all sitting in half circle with needles on their ears, and scalps, quietly or sometimes chatting. It looks very peaceful, and comfortable. After about 20-30 minutes the needles are removed then they get up and went on to another stations.
Homeless are people who are like us that need comfort and reassurance as much as they can get. And to help each other if they can. They seem to understand each other's needs, help if they can and move on. To many, being homeless is not even their choice, but to some, living on the street is the way to free themselves from rules and confinement as they can come and go as they wish anytime and anywhere. This seems a harsh trade to me, but I feel like reaching out to them is the best thing we can do.
Project Homeless Connect